J281/2355 -- AACA Meet, Hershey 2007

J281/2355, a 1933 LeGrande-bodied swept panel, dual cowl phaeton, appeared in the car corral. It won best in class at this year's Meadowbrook and was offered on ebay! The bid of $1,000,200 did not meet the reserve. It was shown at the Car Corral at Hershey with a price tag of $1,250,000. This J was recently for auction at the ACD Museum's auction this Labor Day (2007), but apparently did not sell. The ACD web site listed it as "Original LaGrande Body #1007."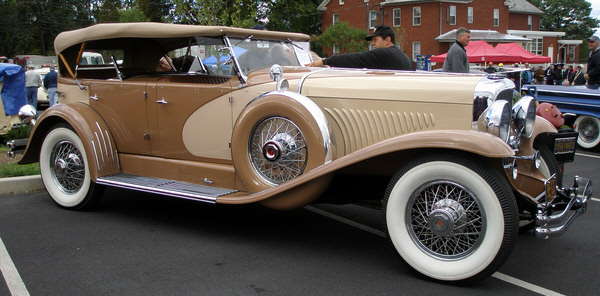 The Duesenberg Registry does not show any listing for J281, but gives the following info on the Chassis:
(J-334) 2355 Originally Murphy Convertible Sedan, SWB, 33/46. Frame only survives in ex-Boeshore and Moore LaGrande Phaeton with engine J-281, featured in ACD NL No. 6 1992, mentioned by Roe as sold from Boeshore to Moore with two other Duesies. In NL No. 1 1984, Wolff mentions it lost in MI but "probably switched with J-281 except for bell housing"--no other pieces of J-281 exist).
In the chassis listing in Adler's book1, J281 is associated with a LWB "Rollston Town Car with Quarter Windows," chassis 2302. The Duesenberg Registry gives no info on chassis 2302.
| | |
| --- | --- |
| | You may enjoy these two photos of the driver's side of this motorcar showing the two monstrous horns lurking behind the side-mounted spare! |
In January 2008 this Duesenberg finally sold at the Barrett Jackson Scottsdale Auction for $1.1 Million (including buyer's premium). See the Speed.TV podcast here (MP4 video). It was repainted later that year in a more traditional red and black scheme, and was shown at the 2008 Pebble Beach.