A Day at the Concours d'Elegance of the Eastern US

I spent the weekend in search of Duesenbergs. I did not spend it in vain!



The 2007 Concours d'Elegance of the Eastern United States was held in nearby Bethlehem, PA June 10. Saturday was listed as an A-C-D meet, but only A- and C- showed up, no Duesenbergs. Sunday, however, was a different story. Four Duesenbergs were in attendance. Three are shown above: J150, SJ537, and SJ478 (left to right.)
The car in the middle is SJ537 (Chassis 2558), and it is a wonderful restoration. Presently owned by Frank Ricciardelli of Monmouth Beach, NJ, Adler lists it as a "New York Demo." It is a SWB Dual Cowl, Swept Panel, Phaeton by Le Grande. The supercharger was factory installed.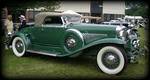 The car on the left is J150 (Chassis 2176) This motor originally powered a Murphy Convertible Sedan according to Elbert, but now carries a Derham Coupe body. It also carries a glass falcon hood ornament (Lalique) that appears to be in fashion. I don't like it. In spite of that, it was a good restoration.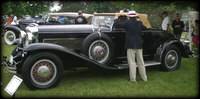 The car on the right is SJ478 (Chassis 2496). It is a Murphy Coupe with disappearing top and is 'original' and has not been restored. The plaque lists the owner as John North of St. Michael, MD, but it was shown by his son, David. Interestingly, the motor is painted red! Apparently, when the motor was rebuilt in the 50's John decided it should be red! According to David, shown here raising the top when the rain started, his parents honeymooned in the car! The running boards are a bit dented, but the paint and chrome seem pretty good. The supercharger was factory installed.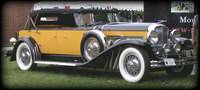 One of the "poster cars" was J448 (Chassis 2464.) It is a LWB Derham Tourster and is a fine restoration. The external exhaust pipes are just for show, the motor is normally aspirated. The car originally had vertical louver sides (see Malks, p. 72 for a photo). Andy Granatelli sold it in 1996, and it had changed hands twice by 1998. It is now another NJ car, owned by Joseph Cassini III of East Orange, NJ. Gerald Wingrove created a nice 1:15 hand crafted model, #45.
You can see the 2007 gallery of cars here.

REFERENCES
Josh B. Malks, "Illustrated Duesenberg Buyer's Guide," Motorbooks International, Osceola, WI. ISBN: 0-87938-741-6.