Clark Gable's Duesenbergs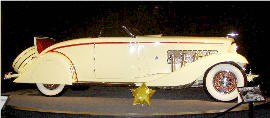 Two Duesenbergs are associated with Clark Gable. The one that has received the most 'press' is the Short Chassis SSJ. Die cast models are available (see My Collection). However, according to ultimatecarpages.com, that car was only loaned to Gable! The recent book by Bill says that Gable "drove" it, but Cooper owned his!

The Duesenberg Gable Really Owned
The car pictured here actually belonged to Gable. I saw it in 2004 at the Blackhawk Museum in Danville, CA. According to Elbert (1) and Bill (3), it is J560, Chassis 2585 and is a 1935 Model JN. (More about the JN here.) The museum card indicated that the original coachwork was from Rollston (All JN's were sold with Rollston coachwork. ) Gable had it restyled by Bohman & Schwartz. The rear fender treatment, the scoops on the hood, and the low windscreen give it a unique look. Click these images for a closer view.
Bohman & Schwartz styled Duesenbergs all share a few common design elements. One of them is that the hood does not stop at the firewall, but continues all the way back to the windscreen. This is evident in Gable's restyled Rollston and in J544, which was also on display at the Blackhawk.
Gable owned this car until his wife, Carole Lombard, died in 1942. According to The Duesenberg Registry, he left it in Canada when his wife died, with instructions that it never be seen in California while he was still alive.
According to posts in the ACD Forum, although the bell-housing may say J560, the motor is J521. It was installed in the '50s in New Mexico. Gable's JN appeared at the 2007 Pebble Beach and is now owned by the Mann's (of New Jersey!) The forum also says that it was re-restored in cream.
The car appeared at the 2008 Amelia Island where it won "Best in Show." Pictures of it in its new paint can be seen here. A You Tube video shows pin-striping being done in NJ, Aug 1, 2007.