2009 AACA Fall Meet - Hershey, Pa

Although there were no Duesenbergs listed in the RM auction, I did see two on the Show Field on Saturday, and a few interesting stainless steel cars on the Field (one with an interesting Duesenberg connection!) and in the AACA Museum. Two DeLoreans were also in attendance.

I decided to bypass the Hershey RM auction this year. Although an ad in the October Hemmings Motor News said that a Duesenberg with Packard coachwork would be offered, there was no mention of it on-line before the auction.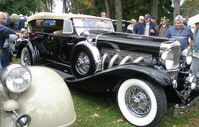 One Duesenberg, J537/2558, was located near the field entrance and attracted quite a crowd. I had seen this car last at the 2007 Concours of the Eastern US in Bethlehem, Pa. Click here for larger pictures.
The skirted front fenders belie the later styling of this 1935 example. The windshield folds down, which must have been quite an experience driving at more than 100 mph!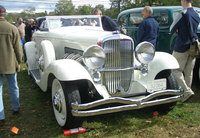 A second Duesenberg was a row or two deeper into the field. J564 has appeared before on this site, but this is the first time I got to see it live. This 1935 factory supercharged JN was shown by Mr. Parfet of Hickory Corners, MI. Hickory Corners is also the home of the Gilmore Auto Museum.
This JN differs from other Convertible Coupe JN's (JN533 and JN560) by having four door hinges. The others have only three.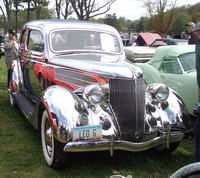 Another of my goals in attending the Hershey Meet was to visit the AACA Museum. A press release said that some of the Allegheny Ludlum stainless steel Fords would be on display. To my surprise there was one on the show field. Unlike the DeLorean's brushed stainless skin, this 1936 Ford had been polished to a mirror finish! The car was shown by Leo Gephart - the same Gephart famous for making reproduction Duesenberg superchargers! He was in the background wearing a "Car Crazy" hat. He certainly is!