The Duesenberg SSJ

Every Duesenberg is unique, but the SSJ's are even more so. Only two were made on this short wheelbase chassis. Short is a relative term: At 125 inches, the wheelbase is longer than my entire 1960 Mini was, but it is considerably shorter than the "standard" 142" or 153" wheelbase Duesenberg chassis.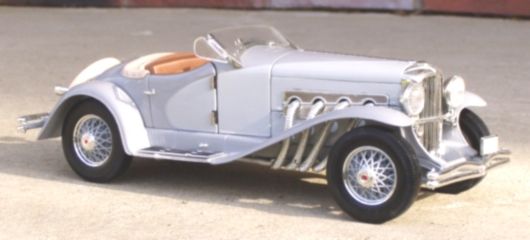 This is a picture of my ERTL 1:18 scale Gary Cooper SSJ (J563 / 2594). It's the only Duesenberg in my collection with black-wall tires! Check Bob's Diecast for your copy!
The other SSJ (J567, / 2595) is generally referred to as Clark Gable's. My ERTL diecast of the "Gable" SSJ can be seen here. I visited Gable's "other" Duesenberg at the Blackhawk Museum in Danville, CA.
In the early 1970's Cooper's SSJ was displayed at the Briggs Cunningham Automotive Museum in Costa Mesa, CA. (See a video of the museum here.) While I was at Cal Tech I used to visit this car frequently. I found this car again on a 1990's visit to the (now closed) Collier Automobile Museum in Naples, FL. It was like visiting an old friend! Check the 2004 Kirkland Concours page for a picture of this car being driven by Miles Collier! If you know the whereabouts of this SSJ now, drop me an email! I'd love to know where it is now!
UPDATE As of 10/08 it is apparantly still owned by Miles Collier. A few readers emailed me with the story of a "Duesenberg Road Trip."
Cooper's other Duesenberg (J431/2425) was at the Heritage Plantation. The Franklin Mint produced the 1/24th scale diecast that I have in my collection.
Another ex-Briggs Duesenberg, a short (142") wheelbase J dual cowl phaeton, was also at the Collier museum. That car had a deep cranberry paint that appeared to change color as the sunlight changed during an afternoon's visit. I think that this was the car that Union Carbide used for a poster they gave out several years ago. The poster hangs, framed, in my office at home.
The display card at the Collier Museum gave the chassis number as #2349. Elbert's book (2) lists that chassis as a LeBaron Dual Cowl Phaeton Swept Panel, originally powered by J325. The Duesenberg Registry (1) gives the same serial numbers and also comments upon the cranberry paint!
Note The website ultimatecarpage that has some very nice images of both SSJ's together and gives both engine and chassis numbers for both cars. The recent book showing photos from the ACD archives (3) confirms the "Gable" SSJ as J567.