DuesenBlog: Duesenberg News - 2007-1


DUESENBERG HOME


(June 2007) After having been apparently sold for $902,000 at the 2006 Pebble Beach auction, J179/Chassis 2198 was offered for sale again, this time by Mecum, in Belvidere, IL on May 27, 2007. The seller did not make much money on it because it sold for $1,002,750, including fees. The SWB Murphy bodied Coupe (body #824) has ACD Level 1 certification, which means the chassis, engine and body are original. Lot U51.

(May 2007) A 1931 Duesenberg Tourster (J444/Chassis 2456) is part of the McMullen Collection that was offered in Michigan. It is on a 1531/2" LWB chassis and carried no reserve. Pre-auction estimates were $1.2-1.5 million. The car sold on June 9, 2007 for $1,485,000 (including buyer's fees)

According to Elbert, the car, a duplicate of Gary Cooper's Derham Tourster, was originally sold to the comedian Joe E. Brown, and found its way to Howard Hughes. Otis Chandler (publisher of the LA Times) acquired it about 1986 and sold it to McMullen in 1996. More pictures are available here.

This car is one of the few that carry the "flying lady" hood ornament that was listed in the parts list, but was imported from Europe and not a factory design. Cooper's Derham also carried the "Flying Lady" when he owned it.

(April 2007) The Ponder Collection was auctioned April 20-21, 2007 in Marshall, Texas. A 1934 Boattail Speedster, J134/2159 was offered without reserve as Lot 2251 by RM Auctions. It brought $660,000, although pre-auction estimates were $600,000-$800,000. According to RM, the engine and chassis originally bore a LeBaron Convertible Berline, and Elbert's 1975 edition agrees. The present Walton Speedster body was acquired from Harrah's, and has undergone some restyling during its restoration. A supercharger was added during the restoration as well.


(April 2007) April 14 J229/Chassis 2250, a 1931 LWB Convertible Sedan, was offered in Las Vegas by Kruse (Lot 756). This engine/chassis originally carried a Willoughby Limousine body, but in the 1970's the body was swapped with that of J439/Chassis 2451. This body was designed by Reginald Parsons III and was among the first with an integrated trunk.
I arrived too late to see the bidding, but it rose to $415,000. It did not meet the owner's reserve. The Kruse people were trying to telephone the owner to see if he would accept the bid. It must have been close to the reserve. The Kruse web site now lists it as "Final Bid." Apparently, the owner is holding out!

(Mar 2007) A 1929 Dual Cowl Phaeton (J126/Chassis 2149) was offered at Amelia Island March 10 by RM Auctions. It is a tan over brown, Swept Panel, normally aspirated J, but with the external exhausts seen on an SJ. Coachwork is by LeBaron. It brought $1,490,400.

(Feb 2007) J340/Chassis 2364 was offered by Kruse in Naples FL Feb 17. This car is said to be all original, except for the paint! Originally black, this 1932 Murphy SWB Convertible Coupe (body #838) now sports a very attractive Cranberry/Maroon coat of paint. Lot 730 sold for $1,050,000 according to early reports, but the Kruse website only lists it as "Final Bid."

(Feb 2007) RM Auctions offered J206, a "Tourster in the style of Derham", during the Florida Collector Car Auction in Ft. Lauderdale, Feb 9-11, 2007. The car sports the external exhausts of an SJ, but is normally aspirated. Interestingly, RM did not even list Lot SP144 as a "Featured Lot." It sold for $378,000.
When this car was last offered by RM (Meadow Brook Hall, MI, August 2006, Lot 250), bidding rose to $340,000, but the car did not sell.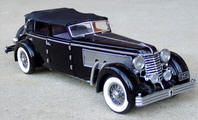 (Jan 2007) "The Last Duesenberg" was sold for $2,805,000 at the RM Auctions Vintage Cars in Arizona. This makes the fourth owner for this car, J397 Chassis 2405. It is said to be unrestored and 10,000 miles from new. See Lot 249 in the RM catalog. The Frankin Mint offered a very fine 1/24 scale diecast of this car ( SHOWN ) which I have in My Collection!
Read More ...

(Jan 2007) One of the few Vintage cars offered by Barrett-Jackson in Scottsdale was J232, a 1930 LWB J Derham Arlington Sedan ( Scottsdale 2007 Lot 1311 ). The car was said to be original as delivered (J232, chassis 2261) and sold for $660,000.