DuesenBlog: Duesenberg News - 2008-3


(Oct 2008) The AACA Fall Meet at Hershey was blessed with good weather. RM, once again, held an auction in conjunction with the Meet. J510, a factory-supercharged LaGrande LWB, Dual Cowl, Swept Panel Phaeton was offered. RM's pre-auction estimates were that it would bring $1.8-$2.4 Million. It brought a price of $1,688,500 ($1.535 Million + buyer's premium) at the auction Oct 10, 2008. Read More ...

J448, a Derham Tourster was on the show field on Saturday. It was tough getting unobstructed pictures. The car was justifiably popular. Read more ...

Kruse also held an auction, but no complete Duesenbergs were in the Lot List. However, there was a "basket car," lot 401, consisting of engine J241, a repro SWB chassis, and a Murphy roadster body. This parts collection was offered and did not sell at the Kruse Auburn Auction this August. At Hershey the bidding rose to $170,000 on lot 401 but it did not meet the reserve.

UPDATE (Nov 2008) This collection of pieces was to be offered again at Kruse's Auburn Auction, but it appears to have been withdrawn.

A 1931 Henney was offered, complete with a Lycoming Flat 8 and a "Duesenbird" hood ornament! Not everything with a Duesenberg hood mascot sells! It brought a top bid of $180,000.

A DeLorean with 32k miles sold for $10,000.

(Sept 2008) J132 is being offered again, this time at a Rinstad Auction at Mall of America on Sept 13, 2008. According to the Star-Tribune, it is owned by Jim Fretham. RM reported it sold for $748,000 at the Meadowbrook auction just a few weeks ago.
UPDATE (Sept 2008) According to the post-auction reports, the bidding on J132 rose to $980,000, but this did not reach the seller's reserve.

(Sept 2008) The Worldwide Group lists J150 (Lot 40) as sold for $742,500 including buyers fees. See more about J150 here. J507, one of the 'featured cars,' is not among the list of cars sold!

(Aug 2008) The results of the RM Monterey auction have been published and both J142 and J243 brought good prices. J142, a 1929 Murphy Convertible Coupe, sold for $1,413,500 including buyers premium, at the low end of the pre-auction estimates. J243, a very pretty Barrel-Side Dual Cowl Phaeton, brought $1,760,000, also at the low end of the pre-auction range.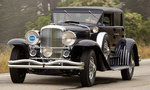 Two Duesenbergs were shown at Pebble Beach, J281 and J512. J512/2538, shown here (Image: W Melissen UltimateCarPage.com), took the First Place honors for Class C-3, American Classic Closed Prewar. Listed as a 1933 Duesenberg SJ Murphy Beverly, it was shown by Joseph & Margie Cassini III of New Jersey. The Cassinis showed J448 at the 2007 Concours of the Eastern US.
J281 also appeared at Pebble Beach, in its new red and black paint scheme. Although it was reported to be offered by the Blackhawk Collection, it is not presently (8/2008) shown as part of their current inventory. It is likely that J281 has finally sold! The other two Duesenbergs, J118 and J381, are still listed as current inventory.

(Aug 2008) The saga of the "new" Duesenberg continues. According to reports, the Duesenberg trademark, along with plans for the Duesenberg II®, the plans for the Duesenberg Torpedo® and other assets of Duesenberg Custom Coach, LLC will be offered at the Kruse Auburn auction, with a "low reserve." This marks the third time in a little more than a decade that the automotive Duesenberg trademark has been sold.
Some of the recent history of the Duesenberg marque is outlined here.